Ukuleles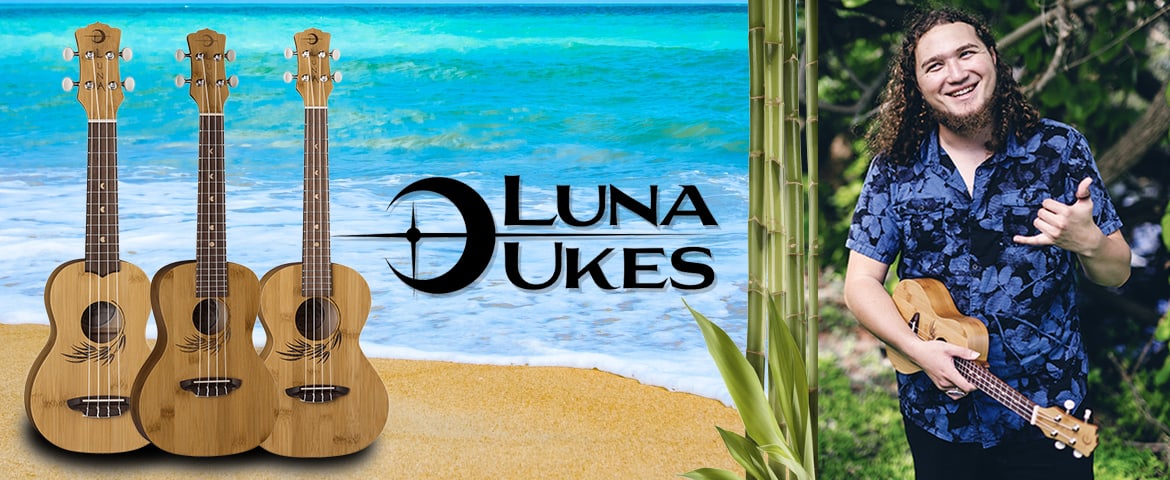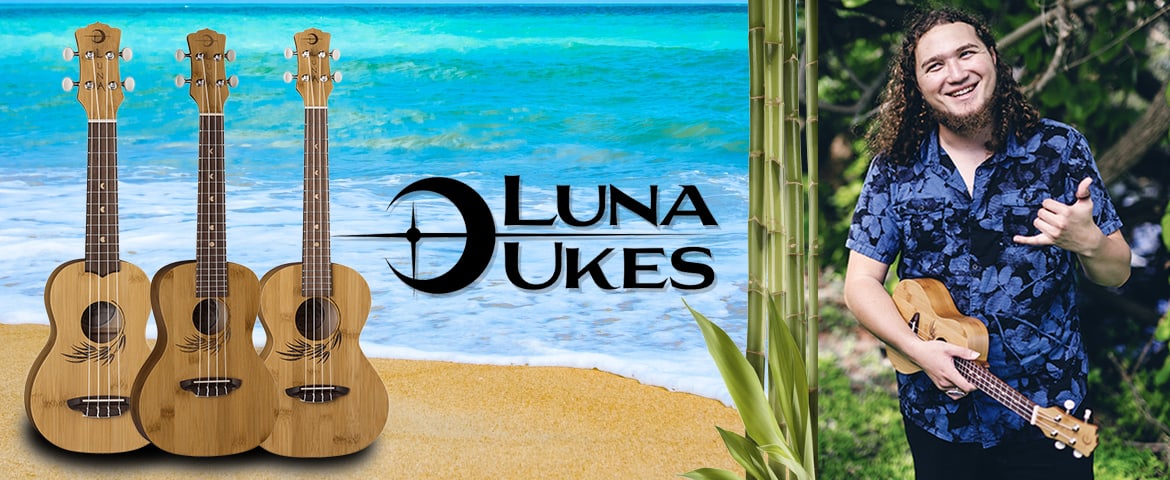 Baritone Series
Think of the Baritone Ukulele as the uke family's biggest sibling(or think small tenor guitar). The baritone uke produces a much deeper and fuller tone, and is traditionally tuned down similarly to the four bottom strings of a guitar. It's perfect for blues or fingerpicking styles, and just perfect overall for those looking for great playability. It's a wonderful choice for pros, beginners or children alike. Create something beautiful with Luna today with a Luna Baritone Ukulele.
Bari-Bass Ukuleles
Akin to the Baritone Ukuleles, the Bari-Bass Series of ukes are strung with Aquila Thundergut strings making this instrument a joy to play.
Concert Series
The Concert Ukulele (or Alto Ukulele), is the slightly bigger sibling to the soprano uke. With a fuller tone and longer profile than the soprano, people with larger hands tend to gravitate towards this instrument. Also, for guitar players making the transition to the Ukulele, access to the upper fret registry is a little easier. As with all Luna instruments, one can expect great playability and great sound. It's a excellent selection for pros, beginners or children.
Soprano Series
The Soprano Ukulele is easily the most common type of uke that is currently available. Due to it's small nature, it's an ideal Travel Guitar or a great Beginners Ukulele. People with smaller hands enjoy starting with this first due to the frets typically being closer together. As far as timbre, the soprano uke is probably the most recognized in people's minds as the "sound" of the ukulele. You can also expect great playability from a Luna Soprano Ukulele. It's a delightful first step for pros, beginners or children. Create something beautiful with Luna today.
Tenor Series
The Tenor Ukulele is typically a bit larger than a concert uke. The overall tone and timbre is often fuller than it's more compact counterparts. For ukulele artists, the tenor ukulele is perfect for those looking for a richer tone, and easier access to the upper fret registry. Perfect as a travel guitar. It's an excellent choice for pros, beginners or kids. Expect great playability and sound.
The Ukulele revival has ushered in a new era of acceptance and respect of this instrument as a world stage leader. The ukulele is commonly associated with music from Hawaii which according to Queen Liliʻuokalani, the last Hawaiian monarch, means "the gift that came here", from the Hawaiian words uku (gift) and lele (to come). First developed in the late 1800s, the ukulele was based on several small guitar-like musical istruments of Portuguese origin to include the "machete" and the lesser known timple, rajao and cavaquinho. Ukuleles were later introduced to the Hawaiian Islands by Portuguese immigrants. Luna Guitars has modeled the inspiration behind our acoustic guitar line, and that result is the now world recognized Luna Ukulele. Choose a series: Soprano, Concert, Tenor, or Baritone or go for something more exotic from our Tribal or Heartsong series. Perfect for travel. Perfect for pros, beginners or children. Create something beautiful with Luna.