"I've come to recognize that writing for kids is the most important thing I'll ever do with my music."
Denise Rosier is a singer/songwriter/producer in Orange County, CA. She has a band, and a solo artist career with one album and another one due for release later this year. In 2012 she will release a children's album and a children's book & CD which her daughter will illustrate.
Rosier plays the guitar, the 6-string baritone ukulele, and keyboards. Her husband, Keith Rosier, plays the bass, and they often work together. Between them they have songs which appear on network and cable TV shows such as "King Of Hill", "Soul Food", and "Supernatural".
Luna players out there making a difference always thrill us. Denise Rosier is a grand example. We asked her to tell us about her work with theSongs Of Love Foundation.
In Her Own Words
I joined the staff of writers for the Songs Of Love Foundation in 2006. Since then, I've written over 200 original songs for terminally ill, and special needs children. The way the process works is parents fill out forms describing their child's interests, hobbies, family members, friends, etc. They can get these forms at Children's Hospitals, Ronald McDonald House, or through their Child Life Specialist. Once they complete the profile, Songs Of Love forwards it to a songwriter, and it becomes a song.
When I work on a tune, the track, and the vocals are recorded at my home studio. We have a 25 day turnaround to complete the song. When the song is done, I email an MP3 and the lyrics back to Songs Of Love, and Songs Of Love cuts a CD and ships it, free of charge, to the family.
Songs Of Love doesn't want to leave a child out just because they don't speak English so they will provide songs for kids in any language. I've written & performed songs in English, Hindi, and Micronesian.
Thematically, the songs are not "you're gonna make it" songs, nor do they ever mention illness, or disability. Instead, the focus is on celebrating the specialness of the child, while incorporating the names of his/her loved ones, interests, and hobbies. It can be quite a puzzle as the songs must containallnames listed (that might be 10 family members), and most of the hobbies written in the profile. You might get a list like: The Wiggles, soccer, pink, woobie, 5 family member's names, mom, dad, Fred (dog), Lucy (fish), wagon, San Francisco, and Sponge Bob .. There are a lot of fixed pieces to build rhymes and stories around. I never knew there were so many ways to say grandma: MeMe, grandma-grandma, beek-beek, etc. I've sung some pretty interesting names.
Stylistically, songs cross all genres: rap, country, big band, Latin, polka.. you name it.. I had a request once to write a song in the "Hooked On Classics" style. LOL! :o)
Kids listen to their songs over, and over, again. For instance, they might put their songs on their iPods and listen during chemotherapy, transfusions, or long hospital stays. I've written a few songs for special needs children whose teachers play the songs during music therapy. Little kids love music. Theyreallylove hearing their own names, being told how special they are, and being reminded of how much they're loved.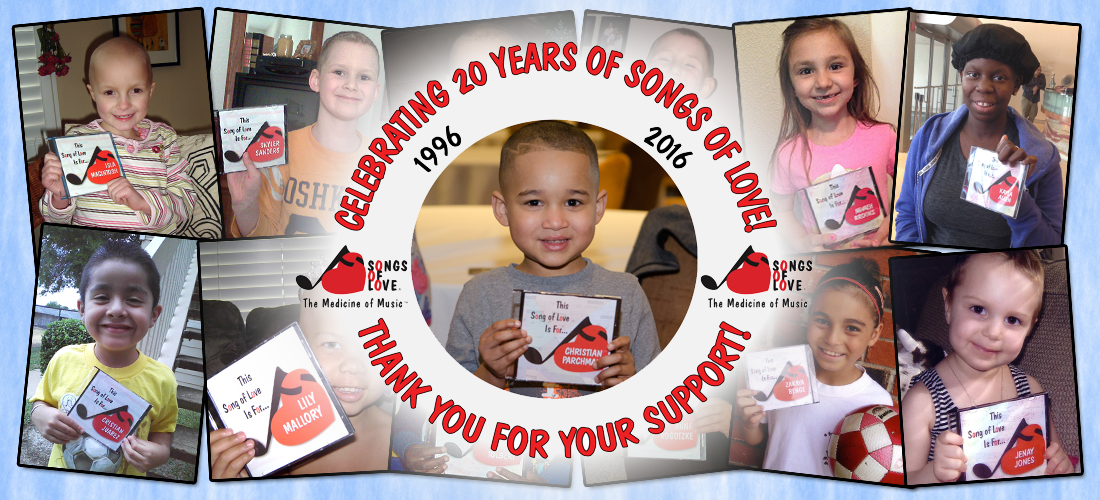 The recipients are not the only ones who are touched by the songs. I received a note from a father a few years ago. He mentioned that his special needs daughter spent a lot of time feeling like an outsider, and thanked me for "making her feel valued". The words, and emotion, in his note stayed with me. Having a small part in making someone feel valued is a such a wonderful thing, and I've come to recognize that writing for these kids is the most important thing I'll ever do with my music.