As thanks for purchasing a Luna instrument, we give you ACCESS To a world of musical possibilities to explore… free of charge!
Luna Guitars has partnered with our friends at TrueFire to create Luna University: an exclusive, FREE series of online guitar lessons that you can download, use and reuse at any time. In addition to Luna's free courses, you will also has access to TrueFire's entire library for 30 Days! 
Any level of musicianship is good for the soul… and, as you progress in your knowledge and dedication, the rewards just keep coming. We'd love your passion for playing, and for continued learning, to be a lifelong state of mind… so, here's to hoping Luna University ignites that passion!
Luna University's exclusive,
in-depth guitar lessons:
Beginning Acoustic Guitar
Acoustic Guitar Rhythm Primer
Intro To Slap-Tap Acoustic Guitar
Beginning Rock Guitar
Ten Blues-Rock Rhythms You Must Know
Rock And Pop Progressions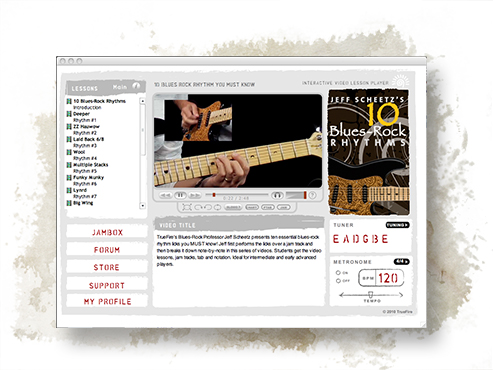 Learn at your convenience!
Friendly instructors who know their stuff
Download a lesson once… learn one or many sections at your convenience… and revisit any of it, whenever you wish!
Lessons are broken down into manageable concepts – easy to access or review — perfect for your busy lifestyle
The

 

Interactive Video Lesson Player

 

lets you learn at your own pace, with looping and slow-motion options to help you nail each concept… and includes a working tuner, metronome, and handy links to your other free Luna U resources!
Start with the lessons that match your tastes best

 

(but don't forget how much you can learn from the rest)
Did we mention this is

 

FREE

 

to Luna owners?!? That's right… just

 

register

 

to get started!
An all-access pass — to instructors who are world-class!

Vicki Genfan
Playing her own percussive technique of 'slap-tap' acoustic guitar, Vicki Genfan has been showcased as one of the world's top guitarists at festivals such as The International Montreal Jazz Festival, Germany's Open Strings Guitar Festival, Italy's Soave Guitar Festival and hundreds of venues and Performing Arts Centers across the US and abroad. She was also the first woman to win Guitar Player magazine's Guitar Superstar Competition, after competing against nine other world-class players in front of celebrity judges.
In addition to being a dazzling instrumentalist, Vicki is an award-winning singer/songwriter with a high-energy stage presence. Drawing from folk, jazz, pop, soul and world music, whether covering the tunes of others or presenting her own compositions, Vicki has a distinctive style that pushes the boundaries of the singer/songwriter genre into new territories.
Acoustic Guitar Rhythm Primer
Intro To Slap-Tap Acoustic Guitar

Jeff Scheetz
Jeff Scheetz is a prolific songwriter, renowned performing artist, master educator and monster guitarist — with eight CDs, six TrueFire courses and numerous publications to his credit. Jeff's music can be heard on Toyota and Chevy commercials and TV shows. One of his songs, "Lakota," was a finalist in the John Lennon songwriting contest. His band's latest CD, "Behind the Mask," was selected as one of JPF Awards' Top 10 Rock Albums – out of 42,000 entries!
Jeff has conducted over 300 clinics and has endorsements with Yamaha, DiMarzio, Ernie Ball, Overture guitars, Spectraflex and Dailey guitar amps (who designed Jeff's signature tube head). Scheetz also led 1,721 guitarists into the Guinness Book of World Records as the Largest Guitar Ensemble — which was featured as #8 on the Top Ten Plays of the Day on ESPN's SportsCenter.
Beginning Rock Guitar
Ten Blues-Rock Rhythms You Must Know

Ravi
Ravi's professional credits are hard to beat. The guitarist, singer, and songwriter has performed on the stages of Madison Square Garden, Lousiana Superdome, David Letterman, Jay Leno, Rosie O'Donnell, Today Show, Good Morning America, Saturday Night Live and at a White House Christmas party for President Clinton. He is a regular "artist in residence" at world-renowned Berklee College of Music, a speaker at major music conventions (including NAMM), and a contributor to some of the industry's most respected music magazines.
But all that aside, what makes Ravi an incredible teacher is his love for sharing, skill as a communicator, and desire to guide others to live their dreams. He's conducted more than a hundred guitar clinics throughout the USA, and volunteers as a music teacher through non-profit organizations targeting some of the poorest kids in the world, from inner-city Los Angeles to the remote villages of India.
Rock And Pop Progressions

Richard Gilewitz
Once touted as one of the strangest men in acoustic music by Spectrum Magazine, fingerstyle guitarist Richard Gilewitz lives up to this depiction with his rousing performances filled with amazing chops, humor, and a history of the acoustic guitar from blues to folk, traditional to classical and somewhere in between.
Acknowledged as one of the most unique and humorous performers on the contemporary acoustic scene, Richard is respected worldwide for his command of the 6 and 12-string guitar. He is a contributing writer for Mel Bay Publications online magazine, Guitar Sessions®, Singer & Musician, Fingerstyle Guitar, and for a number of trade magazines and industry blogs. International Public Radio fans often sample Richard's wit and zany outlook on life on syndicated shows such as RTE Lyric Radio of Ireland, BBC radio of Northern Ireland, BBC Orkney, National Radio New Zealand, as well as numerous local radio shows in America.
Beginning Acoustic Guitar
Register now – it's free!
If you're considering purchasing a Luna instrument…
…be sure to register your new instrument! TrueFire will respond with a passcode after you create a username and password, which will allow you full access to Luna University.
If you've purchased a Luna, but haven't registered it…
…visit and fill out our registration page under "support" on the navigation bar. Once registration is completed, you'll be prompted to click on a TrueFire link to create your username and password, then TrueFire will email you with a passcode, which will allow you full access to Luna University.
If you've already registered your Luna instrument…
…forward your warranty registration email to Luna Customer Service and we will get you on the right path to  full access to Luna University.
If you've already received your Luna University user name & password…
…just click the button to log in!

Now… to quote Jeff Scheetz:
"grab your toys — let's make some noise!"
Finally: if you love Truefire's exclusive Luna University lessons…
…please consider enrolling in a free TrueFire Student Plan, which gives you thirty days of full access to Truefire's huge (and growing!) selection of lessons, without obligation.
The same great quality you experience in Luna University continues in TrueFire's acoustic, fingerstyle, rock, pop, blues, country, jazz, rockabilly, technique-specific, and bass guitar lessons… and that's just the beginning of the resources that TrueFire offers! See https://truefire.com/how-it-works/ for details.