Uke OWL CONCERT W/ PREAMP
MSRP:  $449.00
$299.00
As a guardian of the night, the significance of the owl has varied throughout history but its commonly recognized as a symbol of wisdom, good-judgement and knowledge. In ancient Greek culture, Athena shared both wisdom and military might but always with a strategic approach and she was often times pictured with an owl nearby. The Uke Owl paints a picture of a majestic Owl sitting comfortably on a branch while absorbing strength from the moons glow. The Trans Blue finish off the quilt maple top, maple back and sides, illustrates the time of day where the owl feels most free; night time. Built on a concert body with a 15 scale length, one couldnt miss the bright pearloid moonphase inlays resting on the black walnut fretboard. This owl isnt shy amplify your sound with the Luna UK-T2 preamp and onboard tuner. We hope that with every strum from the Uke Owl, you too can feel unlimited wisdom while perfecting your craft. Branded gigbag included. Join the Luna Tribe, itll be a hoot!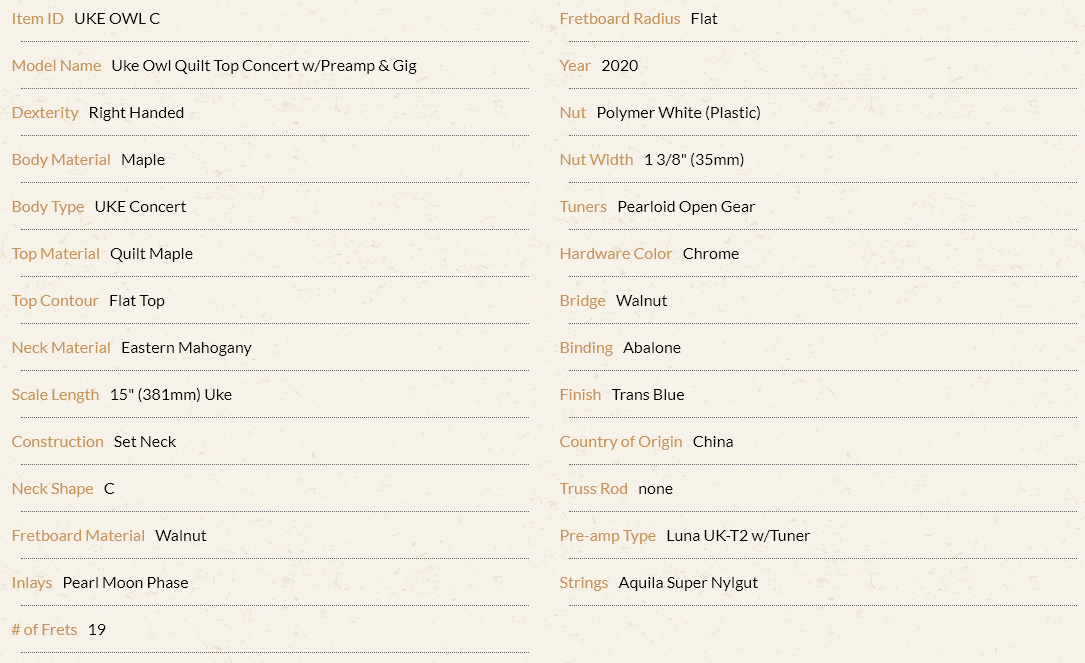 GIGBAG INCLUDED/LL CONCERT
Find a Dealer
Find a dealer in your neighborhood to get started with your order.
Stay Connected
Get our official newsletter for news, updates, and special offers.