uke vineyard koa bevel concert w/ preamp
MSRP:  719.00
$479.00
The Vineyard Series represents the same characteristics many seasoned musicians routinely find themselves trying to embody along their musical journey. Strength, determination and endurance. Like some of the most gorgeous vineyards we see from Italy to California, every vine starts somewhere and grows into something bigger than anticipated. The pearl Vine inlay design on the rosette and rosewood fretboard represents the always evolving thirst for growth and perseverance. Built with the musician in mind, the Uke Vineyard Koa is built on a 15 scale length traditional concert cutaway body with Koa back & sides, Solid Koa Top that offers warm tone, with a bevel to rest the picking arm. For an extra added elegant touch, the open gear tuners rest on the slotted headstock with chrome tuning pegs – ready to be adjusted for success. Whether your foundation is cemented in music or youre looking to make an artistic impression wherever you go, the Uke Vineyard Koa Concert will be rooted to the foundation of your skillset and ready to ignite your passion when the moment is right. With a Fishman Kula Preamp and onboard tuner, be ready to dial in your sound quickly, plug-in to an amp, and hit the stage ready to go. Padded gigbag included!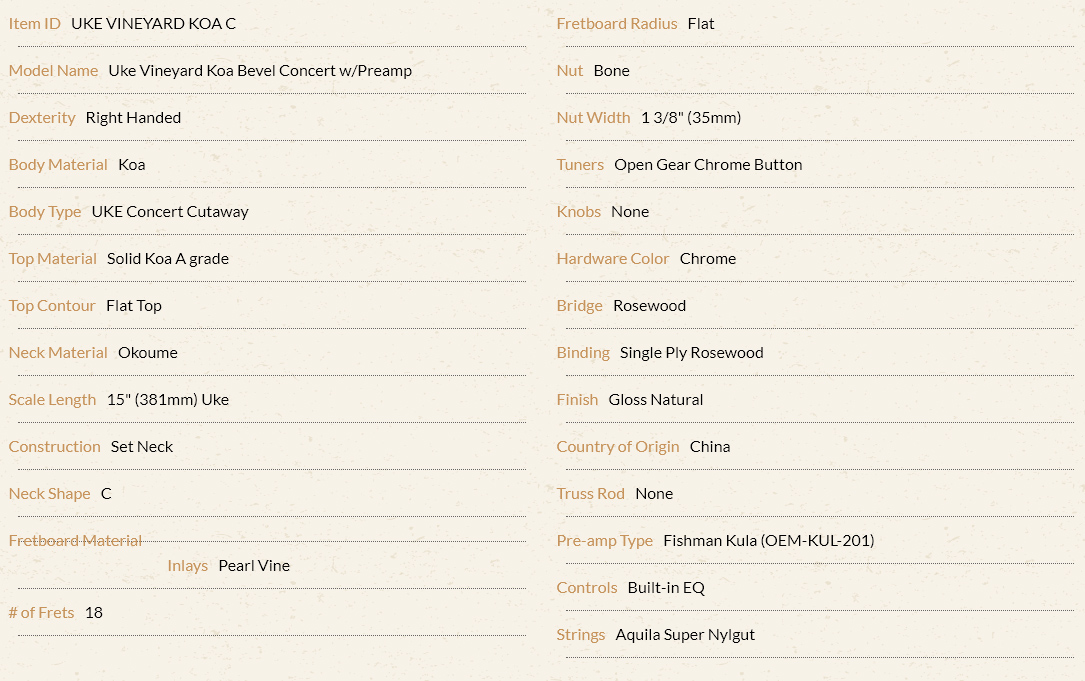 Find a Dealer
Find a dealer in your neighborhood to get started with your order.
Stay Connected
Get our official newsletter for news, updates, and special offers.