uKE VISTA BEAR CONCERT W/ PREAMP & PADDED GIGBAG
MSRP:  549.00
$369.00
For years, many have agreed that Lunas acoustic instruments tout impressive craftsmanship, vibrant tone and have long been sought after for their exceptional aesthetics. With the launch of the Vista ukuleles, we see how the Vista series blends the line between the world of fine art and the art of advanced instrument building. The Vista Bear ukulele model showcases a skillfully crafted top, made from attractive tone-woods that bring its unique wildlife portrait to life. Handmade from a combination that includes Padauk, Quilt Maple, Ebony, Spalted Maple, Ovangkol, and Koa, each ukulele is a completely unique work of art. The Bear features a gloss finished, maple binding, with ovangkol back and sides for enhanced tone and projection. Precision fitted with a hand-shaped 15 scale mahogany neck and capped with a smooth, pearloid moon phase inlays, walnut fretboard the Vista Bears feel, playability, and stand-alone acoustic sound are nothing short of inspirational. Once plugged in, the Vista Bear concert ukulele takes off in yet another sonic direction. You can hear the sound amplified from the mountain tops with its Fishman Kula preamp with built-in tuner. Padded gigbag included. Its time to Join the Luna Tribe!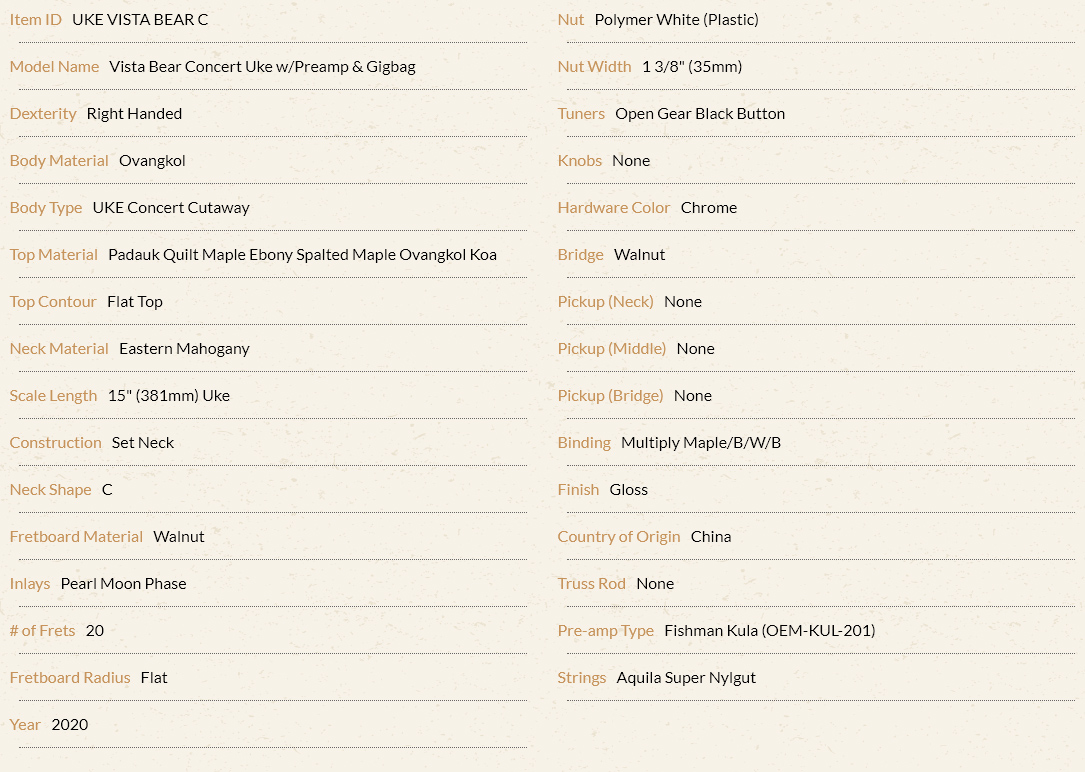 Find a Dealer
Find a dealer in your neighborhood to get started with your order.
Stay Connected
Get our official newsletter for news, updates, and special offers.