uke vista deer baritone w/ preamp & padded Gigbag
MSRP:  649.00
$429.00
Larger-than-life design calls for a larger canvas and bigger sound in this case the baritone ukulele is the perfect answer. The Vista Series blurs the line between the world of fine art and the art of advanced instrument building. The Vista Deer Baritone model displays a masterfully crafted top, made from attractive tone-woods that bring the landscape to life. Handmade from a combination that includes Padauk, Mother of Pearl, Blackwood, Spalted Maple, Teal Abalone, Quilted Mahogany, and Koa, each ukulele is a completely unique work of art. This model features a gloss finished and built on a traditional baritone body with Koa back and sides for enhanced tone and projection. With detailed pearl Moon Phase inlays along the Rosewood fretboard the Vista Deers feel, playability, and stand-alone acoustic sound are nothing short of inspirational. Dial in your sound and hook it up to an amp with the Fishman Kula preamp and built-in tuner, the Vista Deer Baritone offers clear, strong, natural acoustic sound on and off the big stage. Whether plugged-in or not, the Vista series' incredibly full tone, pristine clarity, and unique visual presence make it the ideal instrument to make your musical statement. Padded gigbag included. Join the Luna Tribe!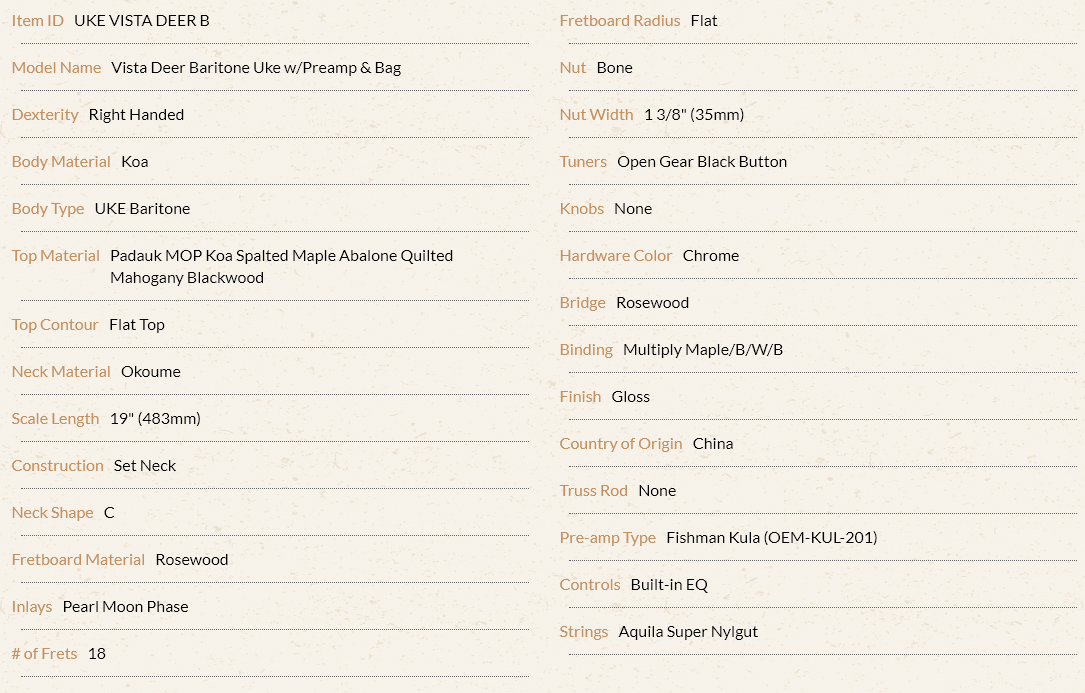 Find a Dealer
Find a dealer in your neighborhood to get started with your order.
Stay Connected
Get our official newsletter for news, updates, and special offers.