uKE VISTA eagle CONCERT W/ PREAMP & bag
MSRP:  549.00
$369.00
Each Vista ukulele features an aesthetically pleasing portrait of animals in their natural habitats or among wildlife, illustrated by using a variety of tropical woods. The Vista Eagle ukulele stands apart, showcasing a skillfully crafted top, made from attractive tone-woods that bring its unique artwork to life. This concert cutaway uke features a gloss finished, flamed maple binding, with the back and sides made of popular Koa wood for enhanced tone and projection. The Vista Eagle is handmade from a combination that includes Padauk, Quilt Mahogany, Koa, Flame Maple, and Birds Eye Maple, making this uke a unique work of art. Precision fitted with a hand-shaped 15 scale mahogany neck and capped with pearloid moon phase inlays on a black walnut fretboard, the Vista Eagles feel, playability, and stand-alone acoustic sound are nothing short of inspirational. Once plugged in, the Vista Eagle takes off (no pun intended) in yet another sonic direction. We equip this ukulele with a Fishman Kula preamp with onboard tuner, which offers clear, strong, natural acoustic sound on and off the big stage. Whether plugged-in or not, the Vista ukuleles project incredibly full tone, pristine clarity, and boast unique visual presence make it the ideal instrument to make your musical statement. Padded gigbag included. Join the Luna Tribe!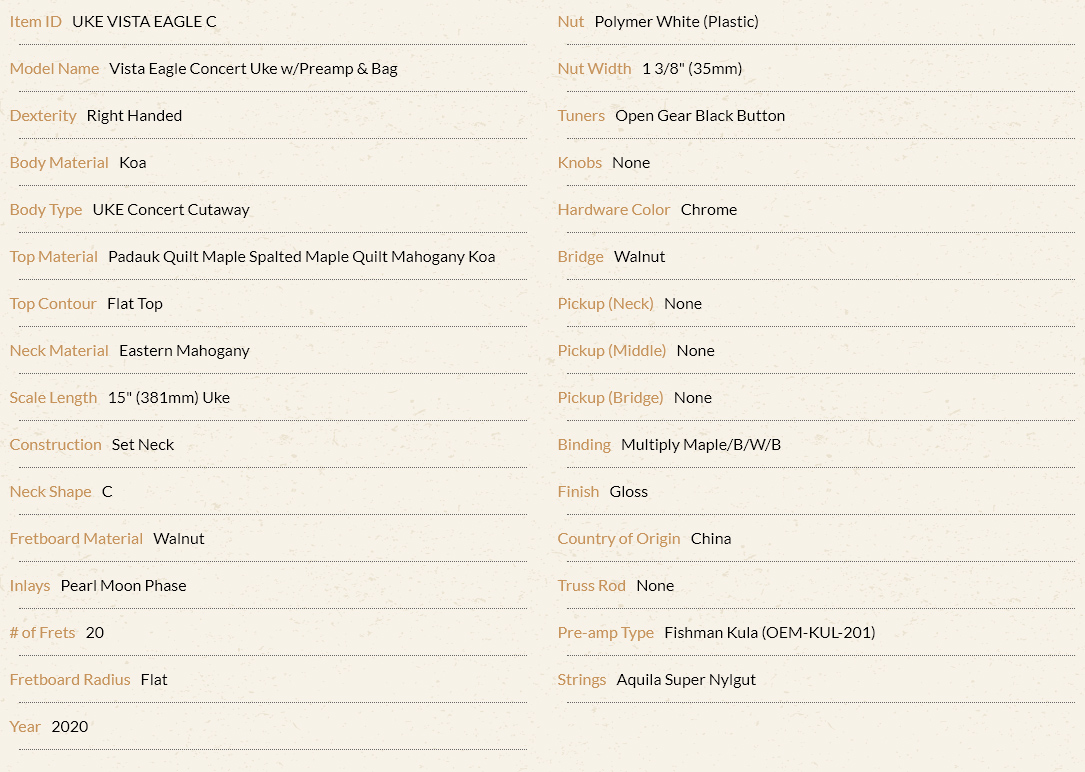 Find a Dealer
Find a dealer in your neighborhood to get started with your order.
Stay Connected
Get our official newsletter for news, updates, and special offers.